NEW ZEALAND DOMAIN NAMES
How do domains work? Domain names act as shortcuts to the server hosting the site. Without a domain name, anyone who wants to visit your site will have to enter the full IP address. But the problem is that the IP address is not easy to remember and it will look strange in advertising materials. For example, beonline.co.nz is our domain name and if you know that, it will be easy to find us on the Internet. You can see what we offer below.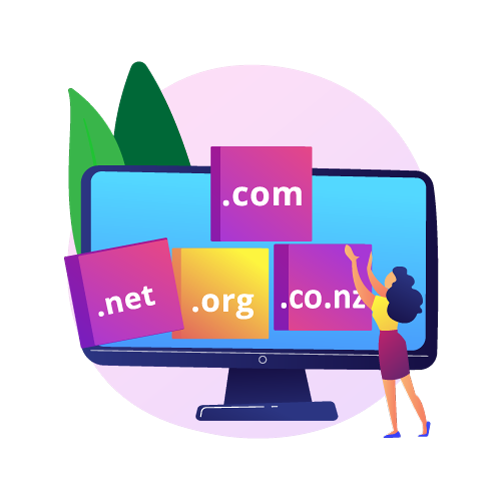 TRUSTFUL DOMAIN NAME REGISTRANTS IN NEW ZEALAND
We recommend to choose from the next domain providers in New Zealand
Why does your business need its own domain:
Easy memorization of the website address. A potential client or future business partner will easily remember a short and easily pronounced website address when he sees it on a business card, hears it in a commercial, etc. In addition, every web user who visits your site will easily remember his name if he wants or needs to share information with his friends and colleagues, he will be able to say it over the phone.
The easy finding of the website on the web. When looking for your company, any Internet user will first try to type the address www.company.co.nz or www.company.com. It means, that it is the best option for you to register the domain with your company name. If funds permit, it is great to register multiple domains with different likely spellings of your business name, both full and abbreviated. Otherwise, such domains can be taken over by your competitors, which might harm your business.
The solidity of the company. The lack of a company's website of its own domain name is perceived by Internet users as a lack of funds to purchase it or its frivolous attitude towards modern technologies. Customers will be reluctant to visit a website with a long distinguished name, especially if it is registered with free hosting. Therefore, many companies buy separate domain addresses for different divisions, brands, and in some cases, even for specific products.
Provider independence. The absence of the name of the Internet provider in the address of your website allows you to leave it unchanged when you are switching your service to another provider and therefore it keeps all your website links unchanged for the best SEO results.
Creation of the mail server of the company. After registering a domain name, you can order a Virtual mail server from us and create an informative and memorable mailing address for each employee of the form employee@company.co.nz.
Start Getting Results Online Today!