SOCIAL MEDIA MARKETING - FACEBOOK
Facebook pages - creation, promotion, and targeted advertising in New Zealand. We offer effective Facebook promotion aimed at business development and expansion on the social network. We use the most current trends and technologies in our work.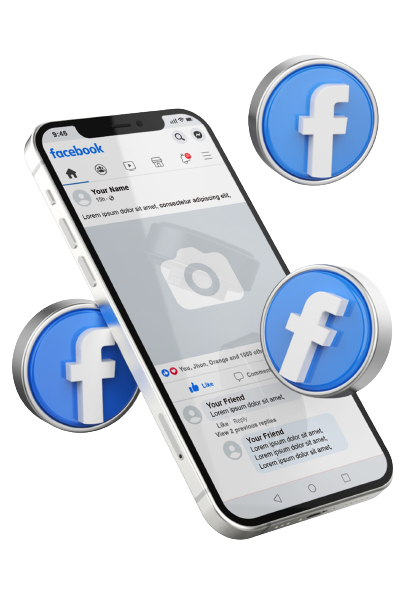 Benefits of Facebook Ads
✔
Increasing awareness
Brand promotion on Facebook is one of the most important tools for bringing a business into the information field of a modern Internet user. When the name of the company is "heard", it increases its popularity already on a subconscious level.
✔
Attracting targeted traffic to your website
When promoting on Facebook, the key focus is on content that motivates the target audience to go to the selling page of your website or online store. The user receives advertising information in a convenient environment (within the social network) and is more inclined to go to the promoted website.
✔
Selling on a social network
The marketing and technical capabilities of Facebook allow you to sell a product or service directly on the social network. For this, order forms or special widgets are used.
✔
Image enhancement
Social network users understand that the company cares about its reputation and is "in trend", which increases the level of trust in it.
✔
A new level of communication with customers
Successful promotion on Facebook is largely based on maintaining a dialogue with real and potential customers. You get a functional platform for answering questions and timely informing customers about all events and changes taking place in the company.
✔
Growth of site positions in search engines
The promotion of a page on Facebook has a positive effect on the results of your site on Google.
Key Facebook Promotion Tools
TARGETED ADVERTISING

One of the key methods of promoting on Facebook is targeted ads. Targeted ads are shown to the user in their news feed and on the right side of the site.
The target audience to which advertisements will be shown is selected according to many parameters:
Geography (up to zip code)
Demographic data
Specific interests, including personal and professional
Behavioral criteria
Links (coverage of users who are in thematic communities or "like" a certain page)
Targeted ads can have headlines, text descriptions, images, videos, and call-to-action buttons.
POSTING IN COMMUNITIES & GROUPS

Promotion on Facebook includes not only official advertising tools (targeting and retargeting), but also an unofficial opportunity - placing advertising posts (messages) on popular thematic Facebook communities. Such a marketing tool will "warm-up" the interest of your target audience and expand the circle of potential and real customers. Posting in communities takes place on a paid basis by agreement with their owners.
RETARGETING

When promoting on Facebook, this tool is actively used to influence those users who are already familiar with your company, website or products. Retargeting will return a "warm" audience to your site and create an incentive to take the targeted action - checkout, subscribe to news, call the office.
Testimonials
Ceramic Pro, Auckland
Sophia, CEO
We would like to thank BeOnline for their continued efforts and high quality services over the last few years. They are reliable and see our vision, helping us to achieve the designs and functions we require. We trust them with our business 100% and highly recommend their services to all.
Catalano Shipping Pacific
Duthie, CEO
Worked together with BeOnline to revamp our outdated website Superyachtsupport.nz to provide a richer experience for our superyachts clientele.
Enjoyed Olga's big-picture approach which was simple and really great – listen to the client, understand their business, and then answer their needs using the power of good design. She also helped us with a rebranding in order to re-energise the company. Brilliant Service!! Thank You!
AP Beauty Studio
Anne, Director
I cannot overstate the value of the people at BeOnline in Auckland, New Zealand. They are some of the most professional guys I have ever worked with. I hired BeOnline Ltd to create a one-of-a-kind logo for my beauty studio. I gave Olga my parameters and, within a few days, the professional brand was ready to go. The process from start to finish was straightforward. If a question came up, the only answer I heard from her at BeOnline was "we can do it", and then they did quickly. I am very fortunate to have found such great people to design my brand, design my Instagram and Facebook pages. I got a lot of useful advice on how to better promote my business. BeOnline's brand and company identity designers exceeded my expectation, which was not an easy task! If you need a professional logo designed, I highly recommend the people at BeOnline Ltd.
Escape Spa, Takapuna, Auckland
Denis, Director
We cannot say enough wonderful things about Olga Ozdemir from BeOnline.co.nz. She is very talented and collaborated with us every step of the way, from beginning to end through the rebranding of our website. Olga came highly recommended by a reputable and close contact of mine who also had a great experience working with her.
Specifically, I found her to be extremely patient, steady, professional, and efficient as we worked through countless revisions to get the functionality and design elements of our website just right. Thank you Olga Ozdemir, we couldn't have done it without you and we are thrilled with the end product. We've received very positive feedback on our new website from clients, colleagues, and friends and we are confident we will gain even more business in the future. If you want an outstanding website, look no further, Olga Ozdemirir at BeOnline.co.nz will make it for you!
Nova Motors, Penrose, Auckland
Helen, Manager
I would like to thank Olga Ozdemir for the terrific work she did for our company Nova Motors Penrose LTD - logo, brand guide, advertising materials and website design. I was pleased and impressed with the quality of work, customer care, and attention to details. I would refer Olga Ozdemir and Beonline Ltd to any business associates who are looking for quality web and graphic designers.
New Zealand Immigration Consultants
Lana, Immigration Adviser
Olga and Damian have been supporting my business for the last five years. They created a professional logo, designed a website, did branding works. They provide constant technical support and respond immediately if the business needs help. Thanks, Beonline, your services are awesome.
Brightwood Homes
Kirill, CEO
I was looking to do my rebranding and website design with many different companies around New Zealand. Everything was basically the same, proposals coming in late, expensive, and bad customer service. While doing my research I found Beonline, they answer all my questions right away and I had a proposal within minutes. Their customer service is exceptional and their work is even better. I am just a regular guy trying to promote my business and had no idea how to build a website. Olga from Beonline Ltd took her time to explain to me how everything works and now I have control over what's on my website. I would definitely recommend their web design service to others.
MG Foods
Anne, Marketing Manager
A website mirrors the company identity that gives it a face and a soul. BeOnline.co.nz did that for our business (MG Foods Ltd - the Mediterranean and Bulgarian food importer to New Zealand). They also redesigned our logo, created our company identity, designed attractive web banners. BeOnline Ltd instantly knew what we wanted to accomplish, they were fast, responsive and relatively affordable. The final product was very functional, tasteful and aesthetically pleasant to look at.
Olga from BeOnline.co.nz did a great job of not only creating our website how we wanted it to be but also gave us great insight on what she believed will help boost sales. Her proven experience and excellence is another reason why our company would recommend BeOnline Ltd express to anyone who is looking to create a customized website or new brand and logo design.
How to get cheap clicks?
To pay less for clicks, your ads must be winning Facebook auctions not because of a high bid, but because of the high relevance of the ad. The relevance of an ad in Facebook Ads is a comprehensive assessment that takes into account the quality of the ad and the likelihood of a particular user clicking on the ad. The ad platform gives an edge to higher quality ads, even with lower CPC or impressions.
Optimising Facebook Ads Targeting People will often click on ads that match their interests. To achieve the most accurate match, we recommend that you avoid wide coverage. Better to use split testing to find the exact audience that actively responds to your ads. Use time targeting. If the target audience is inactive at certain times of the day, for example, students in the afternoon or businessmen in the evening, then displaying ads during these hours is useless. Leverage the power of Facebook and test Lookalike Audience. The social network has huge statistics on the real behaviour of its users, so the system can find for your ad an audience that is similar in interest, which you yourself would not have identified.
At BeOnline Ltd, we take the time to understand your business needs and provide a custom Facebook Ads strategy that meets your exact requirements.
Start Getting Results Online Today!